How can we make everyday civic participation more compelling? There is a new kind of game on the horizon, one that experiments with real-world action. I call them "direct action games," because they restructure acts like volunteering, activist training, and charitable giving. One early prototype is Akoha, which launched last year, quite off the radar of traditional civics activities.
At first glance, Akoha looks like a media hub for a do-it-yourself Boy Scouts. Their website and iPhone app reveal thousands of participants, many reporting on success with real-world "missions," from going vegetarian for a day, to debating the "I Have a Dream" speech.  The actual missions often take place offline, but are only acknowledged when documented with photos and stories for the online community.
Participants are mostly adults, but the ages vary widely. The experience is deeply social, as friends create missions for each other, and share their stories.  More formal recognition for participation comes as players earn badge-like awards — such as "multi-talented" for those who complete one mission in every possible category.
Yet most of Akoha does not look or sound civic. Only one of the mission categories explicitly addresses "social causes."  The other nine concern self-actualization in various forms, from "health and well-being" to family time, engaging with popular culture, and the discovery of travel.  Is this breadth an upside or downside?   That depends on your civic goals, which might include:
Fostering citizen journalism, as participants report on civic themes in their communities
Informal civic learning, as participants reflect on their civic experiences in new ways through stories and pictures
Building social capital, as participants create new ties across traditional social groups
These civic goals may be structurally possible with Akoha, but they are rhetorically hidden.  Even as Akoha's missions bring people into the real world, they avoid the "we are purely civic" framing that occurs on many activist and volunteering websites.  For the Akoha community, it's OK to admit that you are mainly there to have fun, or are trying to improve yourself (and not simply sacrificing for others).  Consider this screenshot from the social cause mission "I Am Not an Island":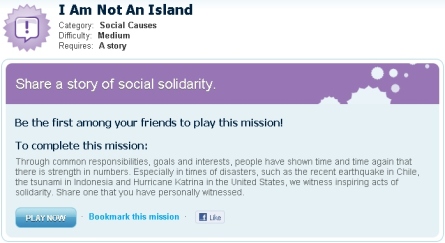 Participation begins with the usual click of a button, yet the specific language of "Play Now" differs sharply from the tool focus of civic action websites (e.g., "Take Action Now;" or "Sign the Petition").   But what exactly does it mean to 'play' Akoha?  Is it a game?
(more…)